ART MARKET
Simon Hewitt looks at the changing face of the Russian contemporary art market through an inventory of international galleries working with Russian artists
Text: Simon Hewitt

The number of international galleries specializing in Russian contemporary art has diminished significantly in recent years. Fall in demand? Yes, partly - but also a reflection of changes in strategy and taste. As the art market becomes increasingly global, national visions blur. A few years ago London - the international focus of the Russian art market - hosted several galleries specializing almost exclusively in Russian contemporary art. There were subsidiaries of Orel (Paris), Regina (Moscow) and Erarta (St. Petersburg) as well as the occasional appearance of Oleg Tselkov and Vladimir Yankilevsky at Aktis, or Olga Chernysheva and Pavel Pepperstein at Pace; not to mention outfits catering to the decorative mainstream like Alla Bulyanskaya or Irina Emtseva's Peace & Colour Gallery. There was a brief attempt to launch a Russian Art Fair in London, while Kensington's Sphinx Fine Art and Cork Street's St. Petersburg Gallery purveyed older Russian material of high quality.
Today only Anya Stonelake's White Space Gallery, founded in 2001, survives - after a challenging journey that has included three different venues (and now, after leaving Pall Mall in December, a prospective fourth) plus various "collaborations and off-site projects," while remaining loyal to a solid core of artists such as Timur Novikov, Leonid Borisov and Ivan Sotnikov.
Yuri Avvakumov. 1. Red Tower. 2. Tribune for a Sportsman-Parlamentarian. 3. Worker and Farmer. 1986-98. Silkscreen print. Courtesy of White Space Gallery
A significant newcomer to the London scene is Marina Shtager, founder of the St. Petersburg Gallery Association and longtime head of the city's Lazarev Gallery. Marina moved to England in 2014, and her Shtager Gallery represents both international and Russian artists. Among them is Gregori Maiofis, whom Marina sells to British and American collectors. Although he is also popular with Russians in the U.K., she reports, "I have had only one Russian collector for him in the last four years."
Today's dealers often do more than sit in a gallery. Marina also collaborates with institutions, runs an art advisory and stages non-commercial projects at her Elephant & Castle experimental space. The most striking of these, in 2017, was "Storming," a plywood-figure installation by Alexander Shishkin-Hokusai.
Marina showed Maiofis at the Woolwich Contemporary Print Fair in November, and took part in last month's London Art Fair alongside Daria Kirsanova's Narrative Projects (which represents Dagestan's Taus Makhacheva); Abode, run by Anna Glinkina from Manchester (showing Maria Agureyeva); and Moscow's Fragment, who brought Ilya Fedotov-Fedorov. Fragment also showed Fedotov-Fedorov's solo project "Preservation Instinct" at the New York gallery-timeshare Vacation in July 2018.
Regarding the development of Russian art, Marina declares: "I pin my hopes on globalisation. Today the speed of information-exchange is increasing all the time, making it easier and easier to operate with artists from different countries."
With fewer and fewer galleries staging exclusively Russian shows, many Russian artists feel obliged to resort to the www.saatchiart.com platform to seek on-line sales. Teresa Iarocci Mavica, Director of the V-A-C Foundation, fears that "Russia's current cultural policy will continue to hinder the contemporary Russian art scene from being presented on the international stage in the way it deserves."
FRANCO-SWISS SLOW-DOWN
A decade ago, five galleries in Paris alone specialised in Russian contemporary: Blue Square, Russkiy Mir, Orel, Iragui and Russiantearoom. The first three have closed. Today Ilona Orel applies her Volgograd va-va-voom to designing jewellery. Katya Iragui is now based exclusively in Moscow. Russiantearoom's Liza Fetissova still deals in Russian photographers (notably Oleg Dou and Sergei Maximishin), but without a permanent showroom.
Blue Square's Dianne Beal returned to her native America, where she has "transitioned to a more curatorial role" while maintaining "a visual presence on-line, with Russian artists the central focus." Dianne sees a clear divide between the handful of Non-Conformists who achieved global recognition - she cites Kabakov, Rabin, Bulatov, Vasiliev and Steinberg - and "today's younger generation who work from a completely different, nomadic global platform. Artists like Gluklya, Nakhova, Fiks, Pepperstein and AES+F have the ability to transcend borders."
Vincent Sator cut his teeth at Blue Square before launching Galerie Sator in 2011, where he has presented Evgeny Fiks, Ira Waldron and Alexei Vasiliev. "Collectors are always interested in our Russian projects," he says, "but sales and commitment are difficult. The Russian political situation is one reason, as is the fact that it's not easy for Western galleries to work with Russia. The lack of a strong art market in Russia is also a problem. If Russian contemporary art is not supported enough by the Russians themselves, Western collectors are bound to be reluctant."
"If Russian contemporary art is not supported enough by the Russians themselves, Western collectors are bound to be reluctant." Victor Sator, gallerist
Taiss, who announced their arrival in 2010 with a compelling Dmitry Gutov solo show, have come and gone, but Rabouan-Moussion continue to show Russian art, albeit less than before: their last Russian solo show was devoted to Kirill Chelyushkin in 2016. They also represent Oleg Kulik and Dimitri Tsykalov. Russian artists crop up elsewhere in Paris from time to time. Benoît Sapiro, whose Galerie Le Minotaure first brought the Non-Confirmists to French attention with a blockbuster show in 2007, has exhibited Tselkov and Steinberg. His cigar-chomping Left Bank buddy Bob Vallois has shown Yuri Kuper and Alexander Kosolapov. Tselkov has also appeared at Shchukin, along with Igor Novikov. Younger artists have surfaced at Nivet-Carzon (Natalya Lyakh), RX (Ivan Plusch), Karavan (Katia Kameneva), 55 Bellechasse (Nizhni Tagil's colourful Vladimir Sulyagin) and Odile Ouizeman (Tim Parchikov).
Nomadic gallery Alexandra de Viveiros represent Gosha Ostretsov and Alice Nikolayeva, and are showing Olga and Oleg Tatarintsev through 23 February, while appointment-only Stanislas Bourgain's roster of Russian and Ukrainian artists includes Diana Machulina, Elikuka, Natahsa Yudina, Fyodor Pavlov-Andreevich, Ivan Mikhailov, Sergei Kalinin, Yelena Minayeva and Vladimir Logutov. But "Russian collectors are buying less," acknowledges the popular Parchikov, who lines up with Marina Gisich on home soil. He nonetheless feels that "any trend can change - there are a lot of talented artists in Russia."
Tim also works with Madrid's Galeria Juana de Aizpuru (where his next show opens on 23 April), Priska Pasquer of Cologne (who also sell Viktoria Binschtok) and Kong Gallery in Seoul. Russian galleries have been tentative about attacking the Asian market: Erarta's Hong Kong gallery was short-lived, while the Singapore offshoot of Moscow's Gallery 11.12 survived somewhat longer.
A lot of Russian money lurks in Monaco and Switzerland, but not much of it is being syphoned off to Russian Contemporary. The spectacular Grisha Bruskin show at Monte Carlo's now-defunct Marlborough branch in 2015 remains a Riviera highlight. Zurich once hosted three galleries devoted to Russian Contemporary - Natasha Akhmerova's Barbarian Gallery, the Swiss branch of Erarta, and the luxurious, three-storey Nadja Brykina Gallery, founded in 2006 but today open only by appointment while Nadja concentrates on her smaller Moscow gallery.
Montreux's Foundation Fine Art, which hosted a blockbuster Konstantin Khudyakov show in 2014, has also come and gone. So have a string of Geneva galleries which occasionally showed Russian contemporary: Charlotte Moser (Valery Koshlyakov) and Bartha & Senarclens (Lavrenty Bruni). Other Geneva galleries who occasionally showcase living Russian artists include Sébastien Bertrand (Alexander Kosolapov and Sam Kaprielov), Art XXI (Maxim Kantor in 2014) and Artvera's (where Tatyana Nazarenko starred at a Jewish group show last autumn). Nazarenko also had a big show at Zurich's Jedlitschka Gallery in 2017 with her partner, Igor Novikov.
WRONG REALITY
For many years, Milan's Nina Lumer (subsequently Nina Due) was one of Europe's most vibrant showcases for Russian contemporary, promoting over a dozen heavy-hitters including Alexander Ponomarev, Oleg Kulik, Andrei Molodkin, Konstantin Batynkov and Dmitry Gutov. The gallery no longer exists, although their city neighbours Galleria Pack recently hosted their third Peter Belyi solo show.
Across the Atlantic, Oksana Salamatina's elegant advocacy of Andrei Sharov climaxed with a book launch at the 2017 Venice Biennale. Julie Saul Gallery (New York) presented Pepperstein's Secret Drawings of Jacqueline Kennedy at the city's ADAA Art Show in 2017, and have also shown Nikolai Bakharev and Anastasia Samoylova. Down in Texas, Lidia Vitovskaya and Denis Mikhaylov feature at Bivins Gallery (Dallas) while Deborah Colton (Houston) represent Ivan Plusch, Olga Tobreluts and Oleg Dou.
Plusch is also on the menu at Hegyvidék Gallery during this April's Budapest Art Week, in a five-artist show called Wrong Reality that also includes his partner Irina Drozd and Sergey Akramov. Drozd's main Budapest gallery is UVG (a subsidiary of Ekaterinburg's Ural Vision), which in 2018 staged lavish solo shows by Olga Tobreluts, Daniil Arkhipenko, Dima Shorin and Rostan Tavasiev on the banks of the Danube.
"Russian galleries appear less and less at international art fairs and events," sighs Irina. "European galleries are less afraid to take risks or invest money in artists." She and Ivan Plusch "try to overcome this situation by participating in international events and co-operating with international galleries."
No Russian artists enjoy a higher international profile than AES+F, the nearest thing to a Russian 21st century supergroup.
No Russian artists enjoy a higher international profile than AES+F, the nearest thing to a Russian 21st century supergroup. Their gallery roster reads like a world tour: Anna Schwartz (Melbourne/Sydney), Galeria Senda (Barcelona), Aeroplastics Contemporary (Brussels), Baró Galeria (São Paulo), Noire (Turin), Art Statements (Hong Kong/Tokyo) and Knoll (Vienna). The latter also represent Blue Noses and Ivan Gorshkov, and continue to run "Art Tours" for collectors to Eastern Europe (including, this year, Moscow and St. Petersburg).
In 2008 Berlin's Volker Diehl became the first foreign dealer to open a gallery in Moscow. That venture proved short-lived, but he still works with Blue Noses, Olga Chernysheva, Sergey Bratkov, Ivan Gorshkov and Alexandra Paperno.
Berlin gallery Kewenig sells Pivovarov, Pepperstein and the Kabakovs, while Mario Mauroner (Vienna & Salzburg) feature Vadim Zakharov, Vadim Fishkin and Sasha Pirogova among their 95-artist inventory list.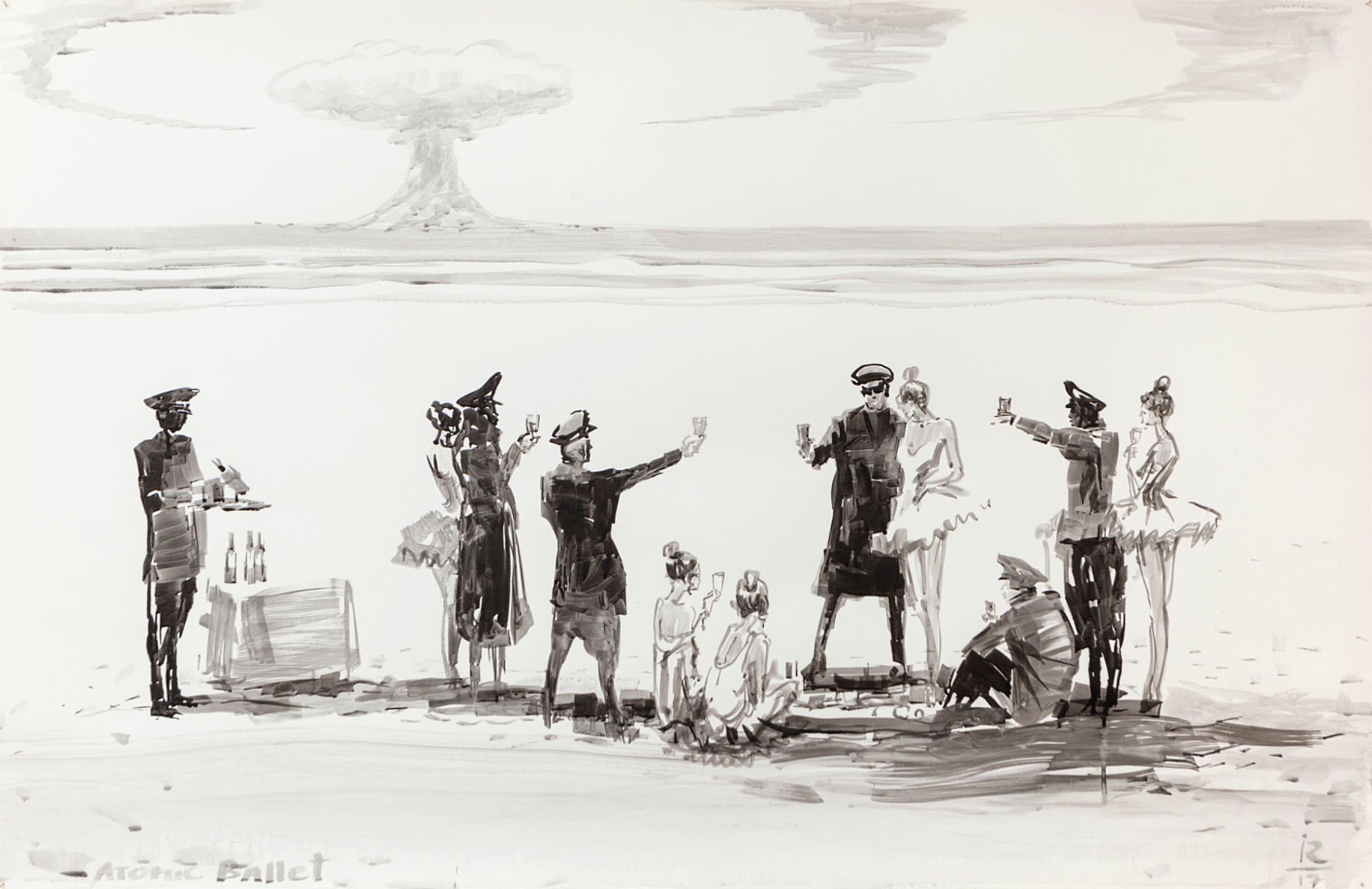 Ivan Razumov. Atomic Ballet. 2017. Ink on paper. Courtesy of NK Gallery
Occasional sightings of Russian contemporary art in Eastern European galleries range from Oleg Frolov and Olga Chernysheva at Tallinn's Temnikova & Kasela to Dinara Nurimova at Ari Kupsus (Budapest) and Aidan Salakhova and Zurab Tsereteli at the 2018 Tbilisi Art Fair, displayed there by savvy Sofiot Stephan Stoyanov.
Taisia Korotkova

Mir Station. Sleeping Room, 2015

Tempera on gesso on wooden panel

Courtesy of NK Gallery

Taisia Korotkova

Space Suit, 2018

Tempera on gesso on wooden panel
Courtesy of NK Gallery
LOW COUNTRIES RAISE THE BAR
Two of the galleries with the most emphatic commitment to Russian contemporary art can be found in Belgium and the Netherlands.
Antwerp's NK Gallery was founded in 2012 by St. Petersburg's Nadya Kotova, in order "to establish a cross-cultural bridge between Russia and Belgium." She has graced fairs in Istanbul, Dubai, Paris, London and Tbilisi, and holds six shows a year at her new venue on Pourbusstraat, featuring the likes of Kirill Chelyushkin, Tasia Korotkova, Oksana Mas, Alexander Pogorelsky and Ivan Razumov.
NK also shows at the new Cube art center in Moscow. "We strongly believe that a permanent parallel programme between Belgium and Russia can answer audience demand and deepen the identity of the gallery as a cross-cultural platform," comments Kotova.

Raoef Mamedov, The Last Supper. 1998. Photography. Courtesy of Lilja Zakirova Gallery
Across the border in the Netherlands, Lilja Zakirova opened her gallery in a 16th century house in picturesque Heusden (near 's-Hertogenbosch) back in 1996. "I feel like a fighting veteran!" she laughs, attributing such longevity to the "genius" and "trust" of the 20 or so artists she works with (led by Raoef Mamedov, Katerina Belkina and Nikolai Polissky). She declares herself tied to her artists by "love, friendship, admiration, respect... and money!"
| | |
| --- | --- |
| | |
| View of Autumn Exhibition at Lilja Zakirova Gallery | Katerina Belkina, 11 Milliliter per Minute |
Lilja purrs about the "deep-rooted Dutch tradition of acquiring works of art" and believes her collectors savour the "high dose of irrationality and existential depth" to be found in Russian contemporary. She confronts the future with confidence, citing Pushkin in support of her description of the art market as a "force of nature" more than an orderly institution: No laws govern the wind, the eagle or a maiden's heart.