Lucas Cranach der Ältere (1472–1553) zählt zu den wichtigsten Vertretern der deutschen Renaissance. Sein Werk beeinflusste Künstler über Jahrhunderte hinweg. Als einer der Höhepunkte im Jubiläumsjahr der Reformation nimmt das Museum Kunstpalast den berühmten Wittenberger Maler, der ein enger Freund Martin Luthers war, in seiner Ganzheit und Modernität in den Blick.
Über 200 Werke, unter anderem aus dem Metropolitan Museum of Art in New York, der National Gallery in London oder dem Nationalmuseum Stockholm wurden in Düsseldorf mit eigenen Sammlungsstücken zusammengeführt. Den Besucher erwarte hochkarätige Leihgaben wie "Venus und Cupido" aus der Eremitage, St. Petersburg, oder die beeindruckende Vereinigung der überlieferten Teile des sogenannten Prager Altars.
Fragment:

Lucas Cranach der Ältere

, "Judith mit dem Haupt des Holofernes" um 1530
Die maßgebliche Rolle Cranachs bei der Verbreitung der Reformation und sein geschicktes Agieren im Dienste seiner fürstlichen Auftraggeber können anhand bedeutender Tafelbilder, Zeichnungen und Drucke dokumentiert werden. In Gegenüberstellung mit Werken von Albrecht Dürer, Hans Holbein d. J. oder Jacopo de' Barbari untersucht die Ausstellung nicht nur Cranachs Position im Netzwerk der Künstler seiner Zeit. Werke von Pablo Picasso, Alberto Giacometti, Andy Warhol oder Yasumasa Morimura geben auch Zeugnis von der Inspiration, die von Cranachs Kunst bis heute ausgeht.
Neueste kunsttechnologische Forschungen und Archivrecherchen geben faszinierende Einblicke in die tägliche Praxis des produktivsten deutschen Malers der deutschen Renaissance. Gezeigt wird das immense Spektrum innovativer Bildlösungen und völlig neuartiger Bildthemen, die Cranach im Spannungsfeld unterschiedlicher Glaubensvorstellungen entwickelte und die sich innerhalb kürzester Zeit über den europäischen Kontinent verbreiteten.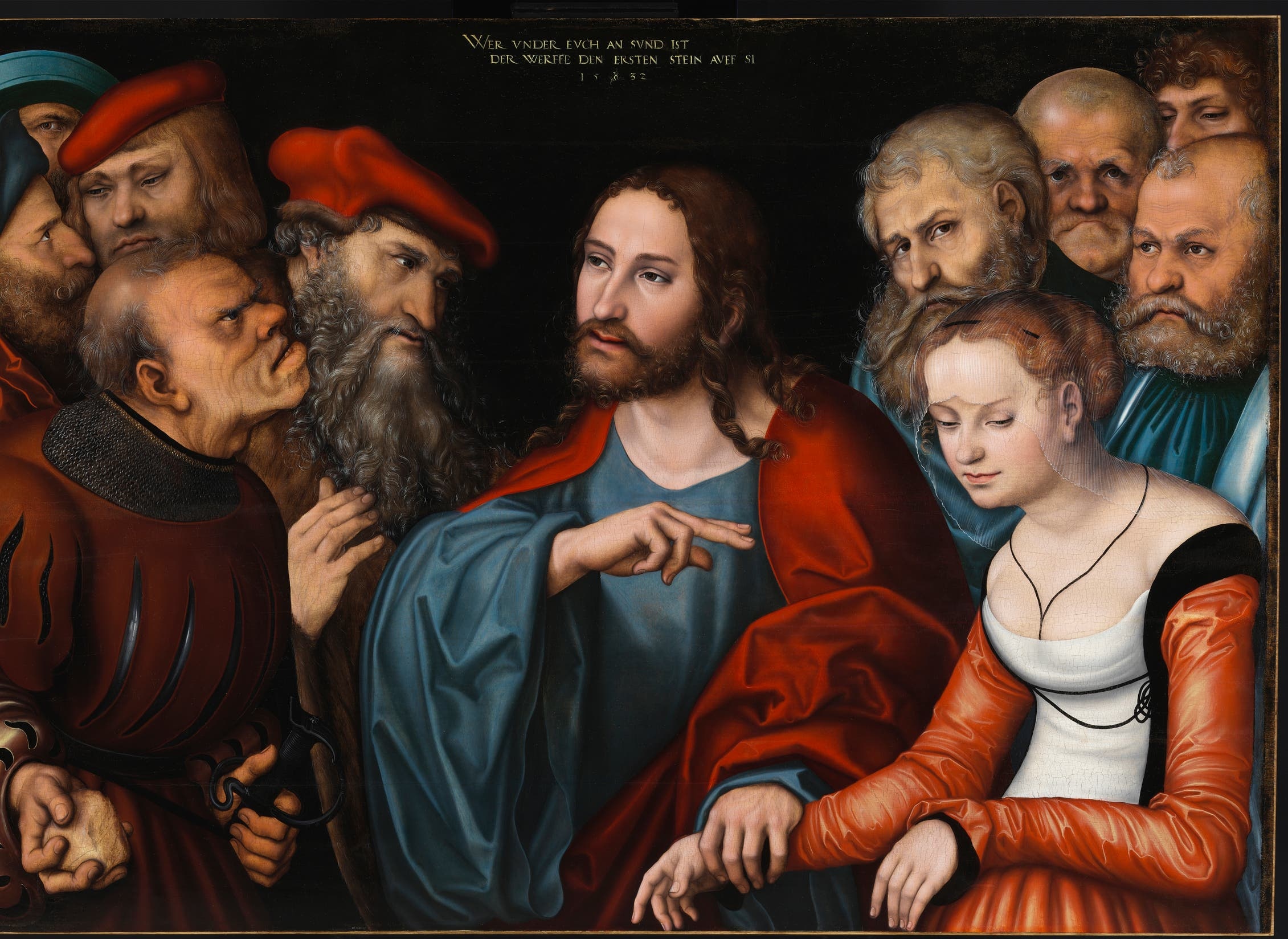 Lucas Cranach der Ältere, Christus und die Ehebrecherin, 1532
Die Ausstellung lädt nicht nur zu einer großartigen Bilderschau, sondern auch zu einer Zeitreise in die florierende Werkstatt des Malers ein. Vermittelt werden spannende Einblicke in die künstlerischen Prozesse bei der Entstehung der Gemälde: Dank modernster Technik werden unter der Malschicht verborgene Unterzeichnungen für die Besucher erschlossen. Neue Forschungsergebnisse geben unter anderem Auskunft über den Reichtum an verwendeten Malmaterialien und die Arbeitsweise des Künstlers.
Kuratiert wird die Ausstellung von den Wissenschaftlern des Cranach Digital Archive Daniel Görres und Prof. Dr. Gunnar Heydenreich, Technische Hochschule Köln, und Beat Wismer, damaliger Generaldirektor des Kunstpalast.
---
English
About 200 works will be brought together from international museums and collections, including the Metropolitan Museum of Art in New York, the National Gallery in London, the Museo Thyssen-Bornemisza in Madrid, the Museum of Fine Arts in Budapest, as well as the Nationalmuseum Stockholm. A range of further high-quality panel paintings, drawings and prints will document Cranach's influential role in the spread of the Reformation, as well as his prudent dealings with the most eminent aristocratic patrons of the 16th century. Further, latest art technological and archive research offer fascinating insights into the painter's day-to-day work.
The exhibition traces the impact of Cranach's art still in evidence in modern and contemporary art. Works by Pablo Picasso, Marcel Duchamp, Alberto Giacometti, Otto Dix, Andy Warhol or Martial Raysse reveal the significant influence of Cranach's pictorial language on the principal pioneers of Modernism.
The exhibition was conceived in close collaboration with the CRANACH DIGITAL ARCHIVE (www.lucascranach.org).
---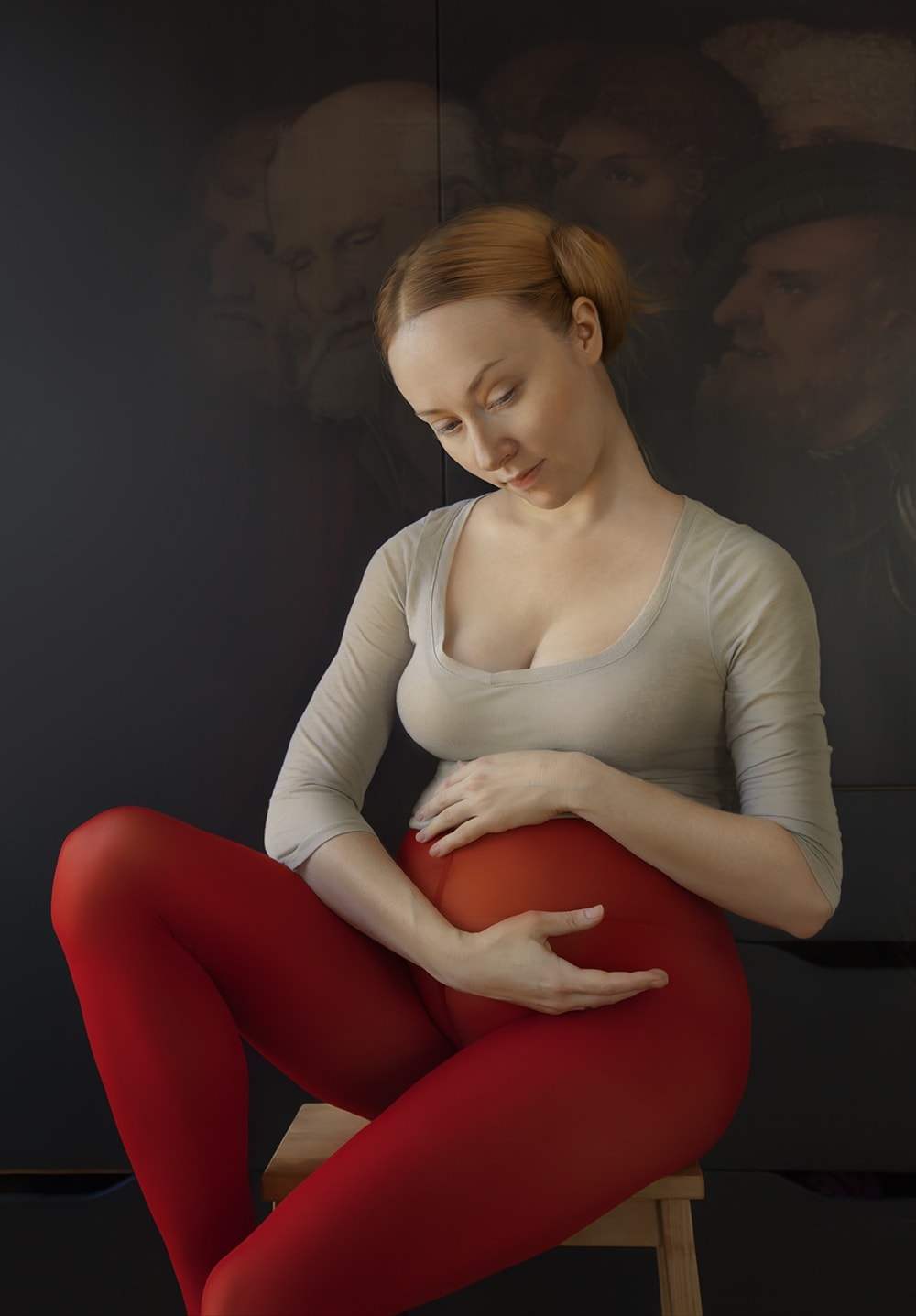 Katerina Belkina, The Sinner, 2014
Artists
John Baldessari (1931 – 2020)
Jacopo de´Barbari (um 1460-70 – 1516)
Katerina Belkina (1974)
María Blanchard (1881 – 1932)
Fritz Bleyl (1880 – 1966)
Berlinde De Bruyckere (1964)
Lovis Corinth (1858 – 1925)
Lorenzo Costa the Elder (1460 – 1535)
Hans Cranach (1513 – 1537)
Lucas Cranach the Elder (1472 – 1553)
Lucas Cranach the Younger (1515 – 1586)
Otto Dix (1891 – 1969)
Marcel Duchamp (1887 – 1968)
Albrecht Dürer (1471 – 1528)
Alberto Giacomett (1901 – 1966)
Dorothee Golz (1960)
Hans Holbein the Younger (1497 – 1543)
Ernst Ludwig Kirchner (1880 –

1938)
Yasumasa Morimura (
1951)
Otto Mueller
Leila Pazooki (1977)
Pablo Picasso (1881 –

1973)
Man Ray (1890 –
1976)
Martial Raysse (
1936)
Franz Wolfgang Rohrich (1787 –

1834)
Elaine Sturtevant (1924 –

2014)
Andy Warhol (1928 –

1987)
Paloma Varga Weisz (1966)
Paul Wunderlich (1927 –

2010)
Exhibition period
8.4.2017 – 30.7.2017
Venue
Museum Kunstpalast
Ehrenhof 4–5
40479 Düsseldorf
Germany
Opening hours
Mo: closed
Tu–Su: 11–18 Uhr
Th: 11–21 Uhr